There is that one scene where Yurio's grandfather had created his version of the pork cutlet bowl and we found it so interesting. So we have the recipe for you guys to try out and perhaps find the agape inside of you. Shall we get started?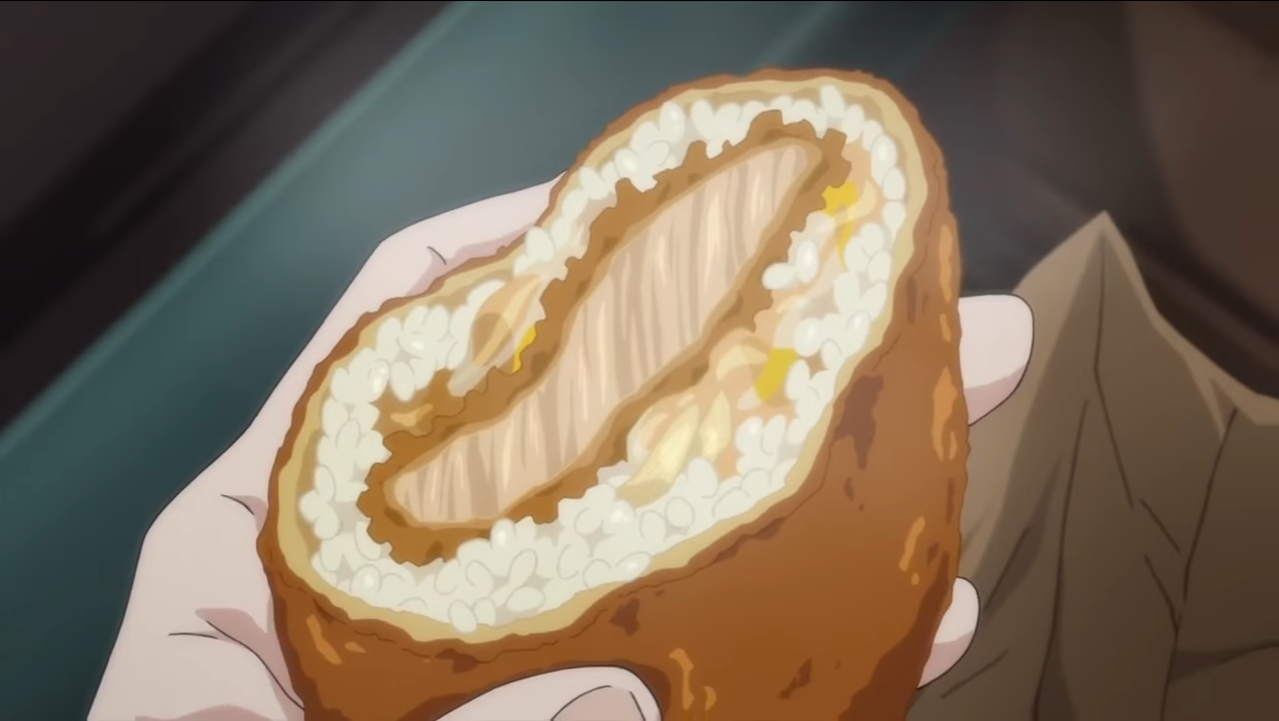 Ingredients:
Piroshki Dough
1/2 Tbsp. Active Dry Yeast
1/2 Cup Water
1/4 Cup + 2 Tbsp. Milk
1 tbsp. Oil
2 tsp. Sugar + pinch extra to sprinkle in yeast
2 tsp. Salt
2 1/4 Cup Flour
Oil for Frying
Tonkatsu
~ 1 lb. Pork Cutlets (~ 4 cutlets, fat trimmed off)
Salt & Pepper
~1/3 Cup Flour
1 Egg, beaten
~1/2 Cup Panko Bread Crumbs
Oil for Frying (I use Canola)
Katsudon
1 Cup Water
1 tsp. Dashi Powder
4 Tbsp. Aji Mirin
2 Tbsp. Soy Sauce
2 Tbsp. Sugar
1 Large Onion, julienned
~8 Eggs
~2 Cups Cooked White Rice
Frozen Peas
Directions:
1. Piroshki Dough: Put yeast in a large mixing bowl. Combine the water, milk & heat for about 45 seconds or so in the microwave to make it nice & warm. Pour this mixture over the yeast, sprinkle in a little sugar, and let sit for about 15 minutes to foam up. Add in the Tbsp. of oil, 2 tsp. sugar, salt, & flour. Mix on low with a dough hook until the dough comes together and fully combined.

2. Dip your hands in flour & scrape the dough from the sides of the bowl so it's somewhat in a ball shape. Cover the bowl with plastic wrap & let rise in a warm place for about an hour.  Mix it on low speed again for about a minute & then cover & rise it again in the same way for another hour. Prepare the filling during this time.

3. Tonkatsu part: In a heavy-bottomed pan, bring about 1″ or so of canola oil to 350ºF. Rinse the pork & pat it dry. Score each piece a little with a sharp knife, & then sprinkle a pinch of salt & pepper on both sides. Cut each cutlet in half along the length. Put the flour, beaten egg, & panko crumbs in different bowls. Cover each piece of pork in flour, egg, & coat in panko.

4. Depending on the size of your pan, place a few breaded pork pieces in the oil at a time. Cook until deep golden brown & crispy, turning to evenly cook both sides, about 4-5 mins total.

5. Katsudon part: In a small pan, combine 1/4 cup of the dashi stock, 1 Tbsp. of mirin, 1/2 Tbsp. soy sauce, & 1/2 Tbsp. sugar with about 1/4 of the cut onions, & bring to a boil so that the onions get tender, stirring occasionally. Cut each tonkatsu piece into a few horizontal strips, keeping the strips of each piece together. Place 2 of the cut tonkatsu into the pan & break an egg over each. Cover the pan with a lid & let cook until the eggs are set. Remove to a large plate. Repeat these steps (combining the sauce ingredients w/ onions, cutting the tonkatsu, cooking with egg) until each tonkatsu has egg & onion. If there is any sauce/liquid from the pan throughout the process, reserve it in a little measuring cup.

6. Making the Piroshki: Heat about 1 1/2″ of oil in the heavy-bottomed pan to 350ºF. Heavily flour your hands & a flat work surface. Pull off about a palm-sized portion of dough & flatten it on the work surface, in the flour. Roll the dough to about 4 1/2″ x 6″.

7. Place about a Tbsp. worth of cooked rice down the center, staying away from the edges. Place a bunch of frozen peas on the rice, then lay on an egg & onion covered katsu piece. Put more onions & egg on if needed & put about another Tbsp. of rice on top with some more peas. If you have any reserve sauce/liquid, pour a little bit on. Draw up the edges of the dough & pinch them to close. Carefully pick up the piroshki & roll it in your hands to smooth it out & shape it basically like a potato. Repeat this process until everything has been bundled up in piroshki dough.
8. Lower a piroshki or two into the hot oil & cook until a deep golden brown, turning to evenly cook both sides. Remove to a paper towel-lined rack & let cool until able to handle comfortably. Serve as is or with a little tonkatsu sauce on the side for dipping.
Are you planning on trying out this recipe? Or have you tried it out? Tell us in the comments and have a Happy Valentine's Day!